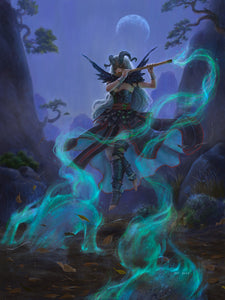 Based off of a Hmong Folklore about a split raj (flute).
A long time ago there were two lovers. They promised to only love each other but lived a mountain apart. To communicate they would play their raj (Hmong flute) and talk all night long through the sound of music. Unbeknownst to them, war broke out and all the men were forced to fight. After many months news reached her village that he had been killed. With a broken heart she went up the mountain with only her raj. Throughout the surrounding area, the mournful song stirred the the hearts of humans and fairies. Her song carried her broken heart for a day and a night until she succumbed to her sadness. Her last song split her flute and the fairy who that took her raj was able to raise the spirits.
This is why the elders say when you play a split raj, a spirit will be called.
The 11x17 print is on 100 lbs. glossy text weight paper.
The 18x24 size is printed on 140 lbs hot pressed watercolor paper with archival inks.